Welcome to the Bahianus Club Lanzarote
YOUR

DIVING SCHOOL
in LANZAROTE
DIVING ON LANZAROTE WITH THE
DIVE-CENTER BAHIANUS CLUB
Lanzarote has the best dive sites of all the Canary Islands. Our dive school only conducts dives in small groups with an experienced instructor.
We dive around Lanzarote and offer you spectacular, varied dives in the Atlantic.
The dive groups and dive sites are individually adapted to your needs, whether you are a beginner or an experienced diver. Diving on Lanzarote is possible the entire year. For the most part we dive from shore, but we also organise regular boat dives.
Our island of Lanzarote is rather small (about 845 square kilometres), and the seabed drops off quickly to great depths. Therefore, even on shore dives we reach challenging depths where there is a lot to discover.
Light sand and dark lava reefs offer an interesting contrast and form bizarre underwater landscapes.
WHAT IS THERE TO DISCOVER WHEN DIVING IN LANZAROTE?
There are caves, tunnels and drop-offs to discover on Lanzarote. And then of course we have our wrecks, just off the coast of Puerto Del Carmen. Diving on Lanzarote is always amazing.
The richness of flora and fauna is immense, as most of our diving areas are protected and no fishing or hunting is allowed there.
So you may enjoy a variety of colourful subtropical fish on shallow, easy dives or admire the elegance of rays, angel sharks, barracuda, amberjack and tuna in deeper water. During dives around Lanzarote, octopods, nudibranchs, shrimps and, with luck, seahorses can be found.
Discover the diversity of the Atlantic!
EXPERIENCE THE VARIETY OF THE CANARIAN FAUNA
Make an appointment via WhatsApp
The best thing is to contact us directly via WhatsApp and make an appointment with us for diving in Lanzarote.
Individual dives in small groups
Varied dive sites around Lanzarote
Diving groups according to experience and training level
Short ways, realaxed preparation
Mostly land based dives, boat dives possible
Drop-Offs
Wreck-Diving
Bigfish an swarm fish dives
Daytrips around Lanzarote
Night-Dives
Individual dives on request
Diving training and licenses
DIVING COURSES FOR EVERY NEED.
FROM INTRODUCTORY DIVING TO DIVING INSTRUCTOR.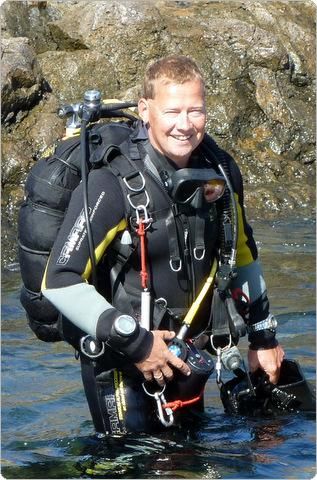 MICHAEL S. GROHN
DIVE INSTRUCTOR
CMAS 3*** / i.a.c. Instructor Trainer