THE WATERS AROUND LANZAROTE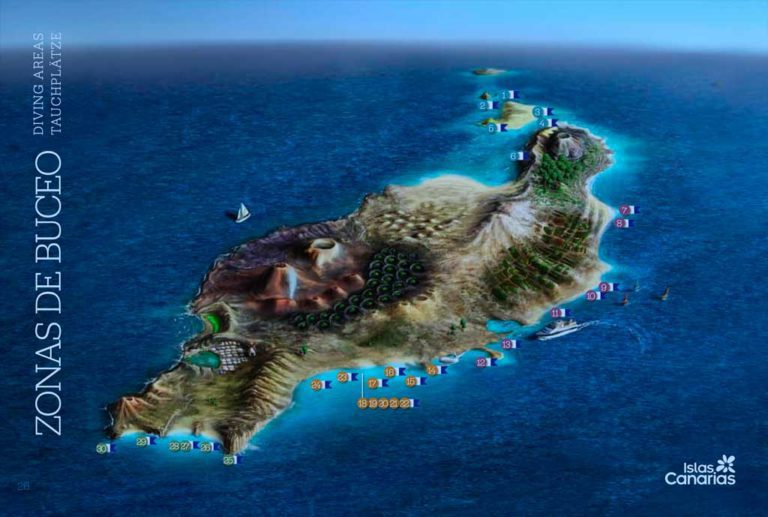 Lanzarote's waters are protected, so no harpooning or fishing is allowed here. This guarantees you healthy fish stocks around our island.
Lanzarote is one of the smaller islands of the Canary Islands with 846 km2 and a captivating underwater world and the dive sites of Lanzarote Often you can pause at a reef edge at 30m and have another 20 metres of visibility down!
In all diving areas you can expect no significant current and we only go to areas that guarantee entry and exit protected from waves.
During your diving holiday you will be able to discover many different dive sites with us.
If you divide the island into four points of the compass, you will see that there are almost always possibilities of escape, no matter which way the winds are blowing. Diving in Lanzarote is possible all year round.
All dive sites offer dive profiles for beginners and for the advanced diver are almost always depths of 40 metres maximum possible (…we always stay within zero time, of course!).
The diving areas are both varied and scenic. We also visit dive sites a little further away and then combine this with a day trip. That means two dives and then a cosy meal in one of the small restaurants along the way with typical (…and cheap) island dishes.
Many creatures have overcome the short distance from the coast of Africa to the reefs of Lanzarote (approx. 140 km) and successfully settled here. Tree and black corals can be seen here from as little as twenty-five metres.
From May to October, manta rays and sunfish come close to shore. Angel sharks and rays give birth in our waters, and some deep-sea sharks can also be seen if you are lucky.
All dive sites Bahianus visits are approved by local port and marine authorities.
Here we give you a small selection of our most frequented dive sites: The shallows are home to dozens of species that are difficult to distinguish on first immersion because of their incredible diversity. A large number of small animals populate the underwater landscape of Lanzarote and many of them are rarely seen on the other islands. Examples of this are the Canary starfish, the Tree coral, the spotted wrasse or the shoals of dancing shrimp that hide in the island's numerous underwater caves.
The underwater landscape is also shaped by the island's volcanic origins and is thus home to a variety of landscapes unique to the Canary Islands. Deep underwater cliffs, which drop to depths of more than 200 m in the immediate vicinity of the coast, or extensive coastal platforms between the islands ensure that the dive sites around Lanzarote are very varied.
Caves, tunnels, steep walls, rock falls, sunken ships, artificial reefs, volcanic tubes, encounters with large animals, forests of deep sea corals, diving with sharks, the dive sites around Lanzarote offer this variety. It is worth noting that our waters are home to a variety of creatures, none of which are considered dangerous. Common sense, caution, respect and good advance information are the secrets to a safe diving experience. Our aim is to promote ecological diving tourism that strives to protect and improve the environment.
INTERESTING DATA ABOUT LANZAROTE
Area of Lanzarote and its islands: 846 km2
Approximate age: 15 million years Estimated age: 15 million years
Highest point: 671 m
Coastline length: 213 km
Beaches: 97 (30km)
Distance to African continent: 125 km
Inseln und Inselchen: Lanzarote, La Graciosa, Montaña Clara,
Alegranza, Roque del Oeste
Prevailing winds: N-NE (trade wind)
Climate: permanently sunny and moderate.
Air temperature (average January and August): 17º – 24ºC
Water temperature (average winter and summer): 18º – 24ºC
Average visibility in water: 20 m
Maximum visibility in the water: 40 m
Salt content: 36 – 37
Gezeiten: zweimal am Tag Ebbe, zweimal am Tag Flut
Greatest tidal range: 2.7 m
Greatest spring tides at the equinox: February and September
Area of the biosphere reserve (1993): 1,226 km2 (846 land, 380 sea)
Timanfaya Nationalpark (1973): 51 km2
Chinijo Archipelago Marine Reserve (1995): 707 km2
Canary Islands Nature Reserve Network: 364 km2
Marine protected areas of the Natura 2000 network: 86 km2
Protected areas of the Natura 2000 network on land: 434 km2
Origin of marine species: Atlantic, Mediterranean, subtropical,tropical, Macaronesian, Canarian and cosmopolitan.